By: Robbie Vogel
Perhaps my least favorite thing golf announcers do is wax poetic about how fans in a particular city "love their golf here." It's such an empty phrase – golfers and golf fans populate every city and town across this country and it's not like America has one defined golfing "hometown" like Scotland has with St. Andrews. I've met, read, watched and listened to die-hard golfers from all over the country and it doesn't seem like any single region exudes more passion than anywhere else. 
Having said all that… us New Englanders love our golf.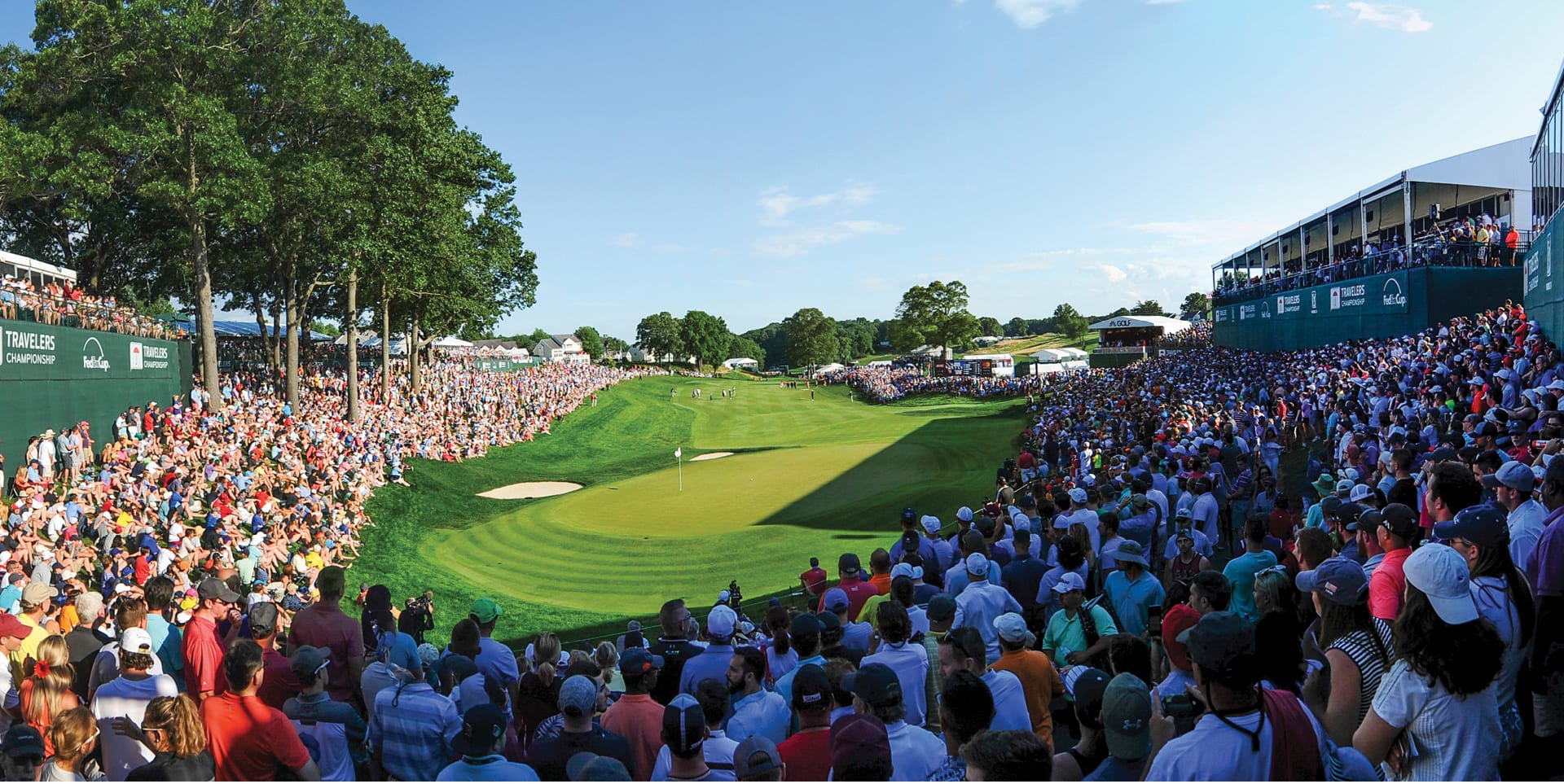 How could we not? We have an incredibly deep and rich golfing history, some of the best courses (both classic and new) in the country, and a high concentration of people with English, Irish, and Scottish ancestry. It's really the perfect cocktail to create a golf-crazy population.
When the temptress known as golf made her way to America's shores, she wasn't initially worshipped the way she had been accustomed to back home. Sportsmen took up the game in fits and starts, mostly at true country clubs where the members used the green space outside the city to practice archery, organize fox hunts, and do whatever else the affluent stock did back then. Golf was a leisure pursuit, one among many, and not given any particular status or consideration.
But municipal golf, the game that so many of us grew up playing, was born around the same time, in a location that still hosts a muni today. George Wright, once America's greatest baseball talent before going on to own a sporting goods store in Boston, played America's first public round of golf in 1890. His 12-hole routing across the hills and hollows of Boston's Franklin Park has been lost to time, but the site is still home to Franklin Park Golf Course, a handsome 18-hole municipal course that sees nearly 40,000 rounds per year.
Of course, golf eventually got her fangs into New England good and proper–witness Newport Country Club (R.I.) hosting the first U.S. Amateur and first U.S. Open, The Country Club at Brookline joining Newport as one of the founding clubs of the USGA, and the same club hosting Francis Ouimet's 1913 U.S. Open triumph and the infamous 1999 Ryder Cup.
But in addition to those two gems, New England is littered with jewels of classic golf, courses that exude such an aura of history that you half expect stymies to still be in play. In no particular order, and with apologies to some I'll inevitably leave out, New England boasts this murderer's row: 
| | |
| --- | --- |
| The Country Club | Mount Washington |
| Myopia Hunt Club | Marion |
| Newport Country Club | Bald Peak |
| Essex County Club | Ekwanok |
| Yale Golf Club | Kebo Valley |
| Eastward Ho! | Sankaty Head |
| Kittanset | Wannamoisett |
| Salem | Country Club of Fairfield |
| Dedham Country & Polo Club | Cape Arundel |
| Taconic | Hyannisport |
Most of the above courses were laid out by some of the best course architects in golf history: Donald Ross, William Flynn, Seth Raynor, Walter Travis, Wayne Stiles and John Van Kleek, George Thomas, Herbert Leeds… you get the picture.
And for those who aren't impressed by history, we've also got Old Sandwich (# 59 in Golf Digest's Top 100 US Courses) and Boston Golf Club (# 87), along with highly regarded layouts at Mohegan Sun, Black Rock, Newport National, etc.
The golf is good here. And although the average golfer can't access many of those storied courses, we still head out in droves to play our local publics, many of which are highly regarded and, crucially, highly accommodating. A large swath of public courses in the Boston area remain open year-round, closing only in the event of snow accumulation. The elements be damned, New Englanders love golf.
So… why are there no professional golf tournaments in New England?*
Before you accuse me of an anti-Connecticut bias (which I do have), I'm aware of the Travelers event at TPC River Highlands*. It's one of the most well-run tournaments on the PGA Tour, and its status seems to grow with each passing year, which serves to make my point.
A halfway decent TPC course set just south of Hartford, and some two hours from New York, Boston, still attracts a terrific field and huge galleries. What does this golf-starved corner of the nation have to do to get some love? 
Let's break it down. Below are the New England events over the past five years, and 2020, from the top four professional tours for both women and men (excluding the Champions Tour). 
PGA TOUR
2014 – 2018
Travelers Championship, TPC River Highlands (Cromwell, CT)
Deutsche Bank Championship, TPC Boston (Norton, MA)
2019
Travelers Championship
2020
Travelers Championship
Northern Trust, TPC Boston
(The Northern Trust will be played at TPC Boston every other year going forward. Oh, joy.)
Korn Ferry Tour
2014 – 2019
No Events
2020
Live and Work in Maine Open, Falmouth Country Club (Falmouth, ME)
LPGA Tour
2014 – 2020
No Events (which is criminal)
Symetra Tour
2014
New England Charity Classic, Stonebridge CC (Goffstown, NH)
2015 – 2016
W.B. Mason Championship, Thorny Lea GC (Brockton, MA)
2017 – 2020 
No Events
The Good
The KFC Tour is leading the charge into our humble region by playing something called the Live and Work in Maine Open this June. Despite its word-vomit brand name, this should be a terrific event. Top 100 Golf Courses has Falmouth as its ninth best course in Maine, and although the club only dates to 1986, the course has two things going for it. 
First, it lies on a gigantic piece of property, some 425 acres, which means it will have no trouble accommodating the infrastructure associated with high-level professional golf. And second, it was designed by Brian Silva and Geoff Cornish, two architects who ought to get more acclaim for the excellent work they've done in the modern age. A quote from Silva himself on the course, via Top 100 Golf Courses:
"Falmouth was a wonderfully varied New England site. The first few holes introduce you to the layout through a placid wooded setting. Then play ascends and descends through a rocky New England hillside to finish out the nine through more gentle topography. The back nine offers another landscape option – rolling and open terrain, with a bit of woods here and there – to finish up with the larger than life scale of the setting for the 18th hole."
The Bad
Jay Monahan, the commissioner of the PGA Tour, was born outside of Boston, went to college in Hartford, and received a graduate degree from UMass Amherst. So Jay… my guy… why you gotta do your home turf like this?
Monahan obviously knows the region's connection to golf, yet he sat idly by as New England lost their annual playoff event. Sure, we still have the Travelers, but for the majority of people in and around Boston, as well as anyone in New Hampshire, Vermont, or Maine, that's simply too far away to warrant a day trip. And great, we get one tournament every two years to slake our PGA Tour thirst. What is this, the President's Cup? Embarrassing.
Also, I can't pretend to follow the Symetra Tour, so I don't know why they stopped playing events at Thorny Lea. But if the course is good enough for a huge number of high-level amateurs (including Matt Parziale), it ought to be good enough for the Symetra.
The Ugly
I realize that not many golf courses in this crowded corner of the country have the footprint and infrastructure necessary to host a big-time golf event. And I further realize that all these classic courses are woefully short by today's standards and would likely be decimated by the length of modern professionals. Which is how I've arrived at the crux of this entire article.
How on Earth are there no professional women's golf events in New England!?
The US Women's Open at the Country Club of Charleston acted as a perfect test case for the idea that elite female golf events can be played at shorter, classic courses. Owing to the smaller gallery size and less robust media coverage, these women's tournaments don't necessitate the kind of logistics, setup, and planning that men's events do. And paradoxically, this might be the women's game's biggest strength when it comes to choosing their venues.
If any high-level male players got a crack at courses like Myopia, Essex, or Kittansett that were built in the era of 220-yard drives, it would be a bloodbath. Bombing and gouging would rule the day, players would be hitting flip wedges into par-5s, and the winning score would likely end up somewhere in the high 20s under par.
But the women's game, with their shorter, more accurate, and more tactical approach is perfectly suited to these older layouts. Their distances and trajectories more closely align with the men's game that was played at the time most of the classics were designed. We saw how much havoc the Reverse Redan par-3 11th caused at Charleston, so just imagine how some of these holes would play in competition…
Of course, all of this presupposes that a number of staid, stuffy, tightfisted, controlling, and generally anal private clubs would willingly cede control and access of their course to the unwashed masses for the length of time that it takes to set up, host, and break down a women's event.
But that could never happen on a yearly basis, right?