The 2018 PGA season continues to heat up. Even though there was no playoff or final pairing drama, the Bay Hill / AP Invitational was once again a sensational event. This week's recap is FULL of content. It's so packed that I'm gonna do the whole damn thing without a primary Tiger feature and carry it wire to wire to prove I can. #PutTheTeamOnMyBackDoe – Here's The Backspin.
TW Isn't The Only One #BACK
Rory McIlroy (or Rory "mick-ill-roy" as the GF calls him) won his first tournament since 2016. The McRib struggled mightily through 2017 and looked equally as lost early this season. Even his most loyal media members at No Laying Up sounded more than just a little concerned when discussing the current state of his game less than a week ago. All of those questions have been put to rest and the Rors we used to know finally showed up to play in a big way.
Rory Learned to Putt, Uh-Oh
Rory McIlroy is a generational driver of the golf ball. Unfortunately for him, you need more than that to win tournaments. His putting and overall short game in 2018 has been abhorrent. In a shocking turn of events, he ranked #1 in strokes gained putting this week. That can be directly attributed to 2 things:
1: He met with PGA veteran Brad Faxon on Monday to work on his stroke. As Bobby Jones famously said, "Golf is played on a five-and-a-half-inch course… the space between your ears." Rory echoed those sentiments when asked about his session with Faxon, "I didn't really hit many putts. It was more of a psychology lesson than anything else."
2: McIlroy switched putters this week and went from a TaylorMade TP Mullen 2 to a TaylorMade TP Copper Soto.
Whatever the miracle fix was, it worked. He also ranked 1st in driving, scrambling and proximity (among other things). When the leaderboard got tight down the stretch, Rory slammed the door shut by birdieing 5 of the last 6 holes. Including this bomb on 18…
Bryson's Longissimus Thoracis
Bryson is one of the biggest tools to ever step inside the ropes. He's a physics major, plays single length irons, wears a Kangol hat and thoroughly enjoys being called the "Mad Scientist". Early in the week he was asked about having to WD from Riviera with a back injury. His explanation is quintessential DeChambeau.
"It was because my quadratus lumborum wasn't working. My iliacus and longissimus thoracis, they were all kind of over-working if you want to get technical on that."
Do You Even Lift Bro??
The most interesting off-the-course incident of the week unsurprisingly came from Johnny Miller, NBC's resident curmudgeon. Johnny takes every chance he can to dish out back handed compliments and veiled insults to as many top players as he possibly can. Rory is no exception.
Prior to Rory hitting his final shot from the fairway on Saturday, Miller went on a classic diatribe about McIlroy's fitness regime. Before Johnny could shut his mouth, Rory stuck his shot to a few feet in real-time coverage. In the spirit of March Madness, I added a little Gus Johnson flare to the incident for your enjoyment. Johnny's comments followed by response…
The legendary Gary Player joined the conversation by congratulating Rory on his victory, then sub-tweeted the hell out of Johnny Miller 
 #BoomRoasted
Fantastic!! Simply too strong today @McIlroyRory. Please never stop working out!! ???

— Gary Player (@garyplayer) March 18, 2018
The Jason Day Vest…
Nike continues to move further and further away from "traditional" golf apparel. The blade collars are one thing, but the vest JDay continues to wear this spring is in another category of disgusting. Was it inspired from a catcher's chest protector? Bullet-proof vests? You be the judge.
The Bubba Conundrum
My disdain for Bubba Watson is no secret. However, his pro tracer traj lines are insanely captivating. It doesn't change my mind about him but it does create a serious internal struggle. Luckily for me, he always finds a way to ensure that my fervent Anti-Bubba stance remains intact. This week it was his revolting Vans inspired, checkered shoes. Puke.
He Is Who We Thought He Was
In addition to Bubba, Patrick Reed regularly finds himself on my sh*t list and for good reason. Prior to his Ryder Cup heroics P. Reed did not engender a great deal of love from the general public. That's because he's a prick. Many people have conveniently forgotten this after his service to our country at Hazeltine, but not me. While wearing his stupid copycat Tiger outfit he got nasty with a PGA rules official on Sunday. Don't kid yourselves… THIS IS THE REAL PAT REED.
Reed with a little shade towards Spieth! pic.twitter.com/nsLdR10r7U

— Deuce (@ssteele55) March 19, 2018
The Winner's … Cardigan??
Since the passing of Arnold Palmer, the Bay Hill Invitational (now the Arnold Palmer Invitational) has started awarding the champion a red cardigan as a prize, in additional to the silver trophy. Even though it's in honor of AP, this is a clear ripoff from Augusta, which other event's have also copied (Hilton Head). This is overkill, not a fan.
Shhh… The Fireman Comin 
Yes, that's a Weezy reference about the 15th tee at Bay Hill which has shrubs directly in front of the tee box in order to protect traffic from worm burners. As ridiculous as it looks, the practicality of it is even worse. Nobody playing the tips will be shanking balls into passing Mercedes.
In the midst of the closing holes, Rory McIlroy had to back off his tee shot for a passing fire truck… Orlando's Bravest wait for nobody.
Recurring Guest, Smylie Kaufman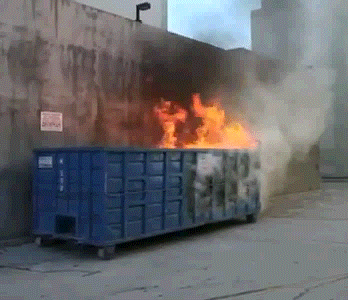 I don't like writing this literally every week but Smylie leaves me no choice… he just finished DFL for the THIRD week in a row. He's now missed 10 of his last 11 cuts. He managed to evade his only cut this February at the CareerBuilder Challenge where he finished T-69. Nice.
Rory Denounces Liquor at Tournaments
Drunk and rowdy fans have become a lit topic on tour (take the pun if you want it). After getting a group of hecklers who mentioned his wife earlier in the week Rory came out against serving liquor at events and said "Now it seems like everyone's walking around with a cocktail or whatever. So I don't know whether it's just go back to letting people walk around with beers in their hand, that's fine, but, I don't know." — Coincidentally, after his victory he was seen toasting to AP with a cup of vodka. Glass houses man, tough places to live.
In Other Tour News…
El Nino had his first child with his newly minted wife, Angela. In a nod to his first major championship and green jacket, he named his daughter Azalea. The 13th hole at Augusta National is also named Azalea… Coincidence? Fur sure not.
THE TIGER FILES
So maybe this isn't completely devoid of Tiger talk. It wouldn't be fair of me to deprive ravenous Big Cat fans their fix. If you want some more, here it is.
Captain Kangaroo
Tiger Woods was named the 2019 U.S. President's Cup Captain. Big Cat has a well known and sordid past which you can learn about if you google Jamie Grubbs, Joslyn James or Jamie Jungers. Tiger was forced to take pictures with a kangaroo as a press release for the 2019 event. Take a close look at his left hand. You know what they say… a Tiger never changes his stripes.
2005 Tiger, Is That You?
TW looked very good this week. I won't elaborate because it's been covered 500x by every news outlet in the world. Here was his pinnacle moment draining a 71ft putt for birdie.
Roy Williams <3 Tiger
TW Fever knows no bounds. As the UNC head coach sat down for his Round 1 NCAA Tournament presser he let everyone know their Lipscomb University matchup was understandably of little concern…
Roy Williams: BIG Tiger Woods guy. pic.twitter.com/nf5iVYeG3U

— Dean Straka (@dwstraka49) March 15, 2018
Dude If I Knew, I'd Tell You
At the ripe age of 42… After countless back and knee procedures… Tiger Woods is besting all players on tour and generating the fastest swing speeds of his career… This begs the obvious question, HOW?! He does have a checkered past with various substances. As he answered the aforementioned question, tour officials looked the other way (wink wink). The actual picture from his response…