What a contrast from last week at Pebble. This tournament was really enjoyable to watch for a variety of reasons. Here are your highlights from Riviera – The Good, The Bad & The Ugly
If you enjoy our content make sure to sign up for the newsletter and follow OTC on Twitter @OutsideTheCut. Thanks!
THE GOOD
The Golf Course
Riviera gave us a perfect example of what good course architecture and design are all about. The course provides a multitude of options and strategy which don't restrict competitors with various playing styles. The tour needs more venues like Riviera which put value on shot making and placement rather than distance.
The top 6 players this week ranged from #1 to #164 in driving distance. Kevin Na drove the ball less than 290yds and nearly FORTY yards shorter than the longest hitter Tony Finau. Yet they both finished tied for second place. Chicks might dig the long ball but I guarantee they dig Kevin's $633,000 check even more.

"Talk Dirty to Me"
Justin Thomas gave us an all time in-flight ball request. God bless tee box microphones.
"Talk dirty to me!" Attaboy JT. #golf #vt #btv #real #PGA pic.twitter.com/ayTfhjOotf

— Ed Coleman (@edcolemangolf) February 17, 2018
Bubba's Pending Retirement
Let me be clear, I am NOT a fan of Bubba Watson. There's no denying that he is fun to watch and the way he shapes the ball is nothing short of amazing. However… anyone who thinks Bubba is a fun loving, happy-go-lucky, country boy is a chump. Bubba is a whiny self-absorbed jerk and has proven this many many times. So it is with great pleasure that we can announce that Bubba will potentially be retiring within the coming days or weeks. In 2014 Bubba said the following:
"My goal is 10 wins and make every team event," he said. "Those are the biggest goals. And until we reach those goals, I'm going to keep trying. If I get to 10, then I can switch it from there. Or retire."
The Genesis Open makes 10 total victories for Watson and I'd like to be the first to wish him well. See ya later, Gerry… I mean "Bubba".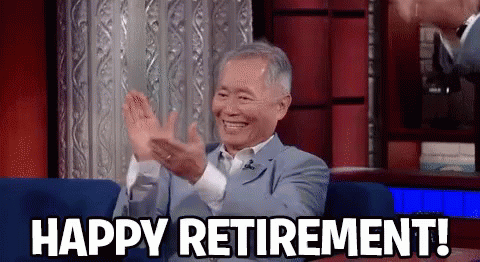 Is Phil Back?
At the start of the year a lot of people were wondering if Phil would get a Captain's Choice selection for the 2018 Ryder Cup in Paris. His play has slowly been declining for awhile and he hasn't won an event since 2013. Phil has now put together 3 consecutive tournaments at 6th place or better. If he keeps this up not only will he be a lock for the Ryder Cup but look out at Augusta and the Open Championship. The Hefty Lefty might not be done just yet.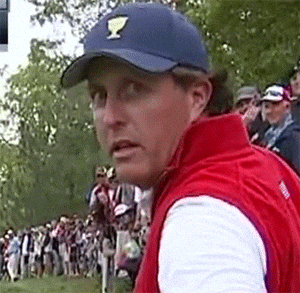 THE BAD 
Tiger Falters
After a multi-week break, TW returned to competition and posted a respectable 72 (+1) on Thursday leaving him within striking distance of the lead. Fantasies of him making a Sunday run were quickly dashed on Friday when the wheels came off and he shot a very rocky 76 (+5). The Big Cat doesn't have a strong track record at Riviera so it's no surprise he missed the cut. What's more concerning is that his driving continues to be abysmal (among other things). At Torrey Pines he was able to overcome this with some very solid putting and scrambling. However, if he is going to legitimately contend he has to figure something out off the tee. Grinding out of the rough on almost every hole isn't going to cut it. He did at least provide us with this gem.
Late Rounds
Pace of play continues to be an issue every week. The final round at Pebble took an astounding 6 hours. On Thursday and Friday at Riviera play had to be suspended both days because of darkness. There were no weather delays and the morning tee times started at 7am. Part of the issue here are holes like #10 which most players are trying to drive the green. As a result, players on the tee have to wait for the group in front to fully complete the hole. Nevertheless, the PGA should continue looking at options to speed up pace of play. Patrick Cantlay is one of the worst offenders. It was painful to watch him deliberate over every single shot.
You know, everyone got on JB Holmes a few weeks ago for slow play (and rightfully so) because he took an extra 3-4 minutes to play a shot. But I've calculated Patrick Cantlay has taken an extra 11 minutes today just in pre-shot routine. Biggest difference is amount of daylight.

— Ben Grehan (@MizunoBen) February 18, 2018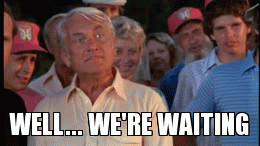 THE UGLY
Bubba Basketball
Bubba was invited to play in the NBA All-Star Celebrity game on Friday night. At one point he said that he would withdraw from the tournament if it interfered with his ability to play in this basketball exhibition (which is nuts). Luckily for all of us he made it to the game and Tracy McGrady gifted us a video that will circulate the golf world for years to come.
Bubba Watson: "I'm wide open, should I shoot it? Nah how bout I challenge Tracy McGrady at the rim instead."

It went as expected. #RufflesCelebGame pic.twitter.com/4l57XqnmcT

— Tyler Conway (@jtylerconway) February 17, 2018
Bubba Crying
If you know anything about Bubba you know that he is a very sensitive young man. It should come as no surprise that he immediately started crying after holing out on the 72nd.
This is the worst. He's gonna sucker everyone into thinking he's fun/cool Bubba again. Keep your guard up folks. #BubbaWatson #GenesisOpen pic.twitter.com/ahiDX5vZaF

— Outside The Cut (@OutsideTheCut) February 18, 2018
Tiger Hairline (NSFW)
I didn't want to include this, but I had no choice. Out of respect to the GOAT I've hidden it at the very end of the blog. We all know that Tiger has been losing his hair for a number of years but I gasped when I saw this one. Please put your hat back on Cat, I don't like seeing you like that. Ignorance is bliss.